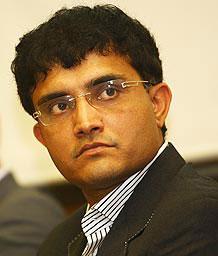 The Warriors

will also sport a new jersey from the black they wore last year. The new jersey will be of turquoise blue and silver colour.
"We are extremely proud that the Sourav Ganguly is the Captain and Mentor of Pune Warriors India in this season of IPL. I am sure that his experience, expertise and deep understanding of the nuances of

the game

will definitely infuse an exemplary spirit of passion and commitment amongst the members of the team," Sahara supremo Subrata Roy was quoted as saying in a

press release

issued by the franchise.
The Warriors' bowling coach is Allan Donald while Praveen Amre is the batting coach. Paddy Upton is the mental conditioning and high performance coach of the team.
Excerpts:
How is your team shaping up?
We have a camp in Pune from

Wednesday

where we hope to have a majority of Indian players in attendance, though quite a few of our foreign players will still be missing as they have

national

commitments. They will join up closer to the start of the tournament.
So there will be no time for the players to gel?
That is true, but on the flip side, international players will all be match-fit. We have a fairly experienced side and having played at the highest level, the players should have no problems in switching to T20 mode.
But you will have no time to mentor the players?
It is only the youngsters who perhaps need a bit of guidance. I will address that as we go along.
Are you happy with the squad you have at your disposal?
We have a very strong contingent of Indian players and quite an exciting bunch of foreign players. The challenge is to find the right balance and assign specific roles to individual players.
You have quite a few injury issues as well. Mitchell Marsh is out, so is James Hopes. Angelo Mathews and Ashish Nehra are struggling to get fit. Isn't it a concern?
We are in the process of finalising

the replacements

for Marsh and Hopes. Talks are on with Michael Clarke and Tamim Iqbal, and I am hopeful we will be able to get them on board. Mathews and Nehra should recover in time.
Yuvraj Singh's loss will be hard to make up...
Look, Yuvraj is irreplaceable. The Indian team has missed him and so would the Sahara Pune Warriors. He is a fighter and I am sure he will recover quickly and get back on the field in the near future.
Are you worried about your own hamstring injury?
I know much more about my body now than when I was younger. I have played one whole season of first-class cricket and my body has held up well. I pulled out of Bengal's quarterfinal match against Baroda in the Mushtaq Ali meet because I didn't want to aggravate my injury. I am doing everything I can to be at my physical best when the IPL gets under way.
Have you set yourself, or your team, any goals in IPL5?
Our first target would be to finish among the top four. The past four editions have shown that a team needs to win at least eight games to be in the frame for the last-four stage and 16 (points) could be the magic number.
What sort of a pitch can we expect at the new stadium in Pune?
It is a flat track - a belter. It should encourage hitting through the line.
Will Robin Uthappa be opening the innings with you?
We have quite a few options in Graeme Smith, Luke Wright and Jesse Ryder. Unless the situation demands, I would like Uthappa to bat in the middle-order.